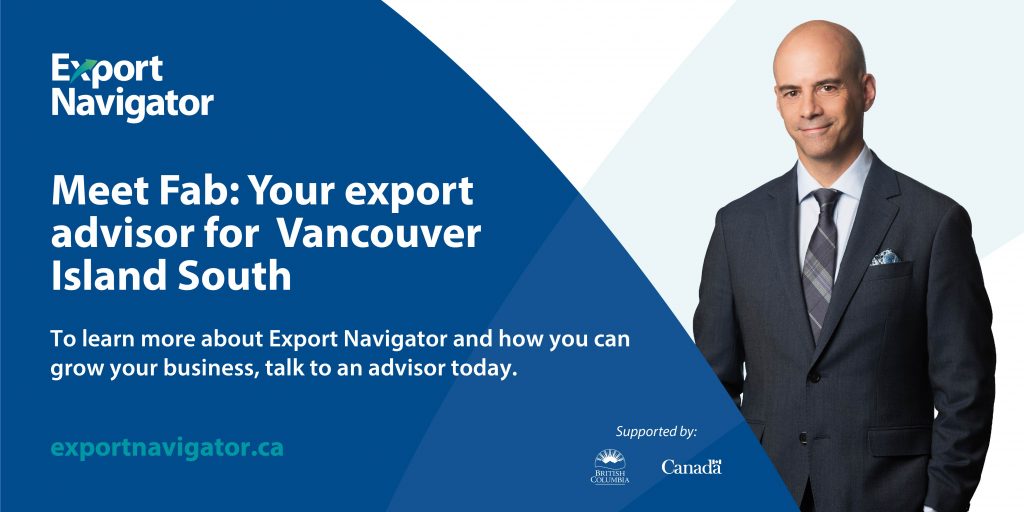 Fabrizio, or Fab, is our export advisor for businesses based in Vancouver Island South. As a seasoned entrepreneur himself, he's got his finger on the pulse of what makes business owners tick. Both aspiring and experienced exporters will learn from his well-informed guidance in all areas of business development. We recently caught up with Fab to gain some insight into his exporting philosophy – keep reading to learn more about it! 
Export Navigator: Can you please introduce yourself and your role as an export advisor? What kind of businesses do you mainly work with?
Fabrizio: I'm Fabrizio (Fab) Alberico and I am the export advisor for Vancouver Island South, the Southern Gulf Islands, and Sunshine Coast. I work with a wide variety of businesses, both in terms of size and industry. Several of my clients are solopreneurs in the early stages of introducing their products and services to the market. They are now finding out how markets outside of B.C. can spur innovation, increase revenues, and ultimately give their businesses a better chance at success in the long term. 
Other clients of mine have been in business for a while and are already able to take advantage of the many free trade agreements we have around the world. Coupled with the fantastic geographical advantage we have to access those markets, B.C. businesses have plenty of opportunities to grow. I enjoy working with them and hope to foster a sense of curiosity and ambition in all my clients.
Export Navigator: What is your professional background and how does it tie into your current role?
Fabrizio: I have worked in the corporate and non-profit worlds since earning my MBA over 30 years ago. I also have experience as an instrument-maker running my own small business. This led me to develop a special affinity for the creative, resourceful risk-takers who are guided by their desire to share something unique with the world. 
Having that connection with fellow entrepreneurs helps me see the many faces of success that my diverse range of clients can achieve. I'm able to support the growth and evolution of those businesses by answering questions, removing barriers, and providing the timely connections that make market expansion possible. 
Export Navigator: What do you look for in a business to determine if they are ready to grow beyond B.C.?
Fabrizio: The first thing I look for is a spark of curiosity and enthusiasm. To me, that indicates capacity for resiliency throughout the growth process. Expanding markets for products and services is not a quick-fix revenue generator, nor is it a one-size-fits-all proposition. There are many ways to go about the export journey, all of which requires introspection, clear goals, and defined markers along the way to gauge progress. The Export Navigator program provides businesses with the resources to know what steps to take and how to take them. Overall, it comes down to a collective effort from all parties involved.
Export Navigator: Aside from being an export advisor, what else do you like to do in your free time?
Fabrizio: I make instruments, including guitars, banjos, and ukuleles. And when I'm not making them, I'm playing them. I enjoy taking in the beauty of this region with my wife and furry friend Rufus the Saluki, burning off enough calories to justify eating fine food. I've also recently become hooked on pickleball. It's a great way to meet more of my community since moving here in April 2020. 
Export Navigator: Do you have any memorable client stories that you can share with us?
Fabrizio: I love to see business owners who decide that the obstacle in their way can also be a path forward. The pandemic and resulting shutdown of farmers' markets presented a significant barrier to many small businesses who relied on them to sell products. However, opportunity often lies on the other side of a challenge. 
My client Salt Spring Island Sea Salt is a good example of a business who grabbed that opportunity and ran with it. They had just entered the Export Navigator program as the pandemic set in. Despite the uncertainty, the owners clearly had the desire to overcome adversity and it got them far. Their drive to get connected to the right programs and services helped them pivot to a different distribution model. It was a move that was far more lucrative and sustainable for them over the long term. They put in the work and said "yes" to the learning and networking opportunities. The result is that they not only survived the pandemic — they thrived.  
Learn more
Thinking of exporting? Find an advisor in your region today and discover what opportunities are available to you.