Sometimes it takes working in an industry to spot a great business opportunity. That's what happened for Missy MacKintosh, owner of MisMacK Clean Cosmetics in Canoe, B.C.
An internationally acclaimed makeup artist, Missy fell in love with the idea of clean beauty products. However, after 15 years in the industry, she couldn't find a clean cosmetics line that met her professional standards. If what she needed didn't exist, then she felt the best option was to create it herself!
In 2017, after working with a Canadian chemist, Missy launched MisMacK Clean Cosmetics; offering Canadians 100% natural, sustainable, and Eco-Certified makeup. By 2019, a full line of products had hit the market, MisMacK had two employees and the first Mini MisMacK storefront opened to the public.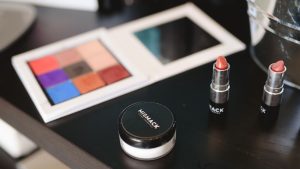 Making Strong Connections
With strong connections to the UK and Europe, Missy's goal was to start exporting overseas as soon as possible, however, she quickly discovered that trade regulations can be complicated and expensive. Connecting with Export Navigator seemed like a good next step to explore growth options for MisMacK.
"Having the support of the Export Navigator program has been incredibly beneficial for my company. This year I'll be working with the Trade Commissioner of B.C., the Trade Commissioner of L.A., and the BDC to create a targeted marketing e-commerce campaign for the west coast of the United States," says Missy. "And once we hit that $100,000 mark, we will be applying for CanExport Funding to help get us overseas. The support has been invaluable."
Taking the Stage
Working with her export advisor, Missy participated in the 2020 Canadian Export Challenge with Startup Canada, competing head-to-head with other entrepreneurs from across the country. Missy did so well that MisMacK was a finalist for the Scale-Up category for the B.C. & North region.
"My advisor has held me accountable, helped me make amazing connections, and has pushed me out of my comfort zone," admits Missy. "The opportunities, exposure, and support that I've received have opened new markets that I never thought of."
Growing During a Pandemic
Having joined Export Navigator in March 2020, Missy has been working with her export advisor throughout the COVID-19 pandemic. Like many entrepreneurs, she experienced a direct impact on her business, but having that extra support has helped her continue to expand during a time when many businesses were closing their doors.
"The program pushed me to think about what markets to expand to next and why. The program helped me narrow it down and create a good game plan," says Missy. "I highly recommend Export Navigator for any business that is looking to expand. I'm so grateful for this program and support!"
If you are interested in exporting for your business, apply to Export Navigator for free export support. Got questions? Contact us!