Like many great business ideas, Gogglesoc started as an elegant solution to a common problem. Living in Whistler, B.C. and fed-up with having to replace scratched-up goggle lenses during ski season, business partners Josh Gray, Andy Taylor, and Richard Adrian-Smith designed a stretchy microfiber cover to offer protection to their lenses when not in use – the Gogglesoc was invented!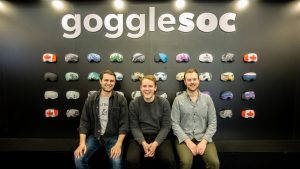 Since 2016, Gogglesoc has taken the global winter sports market by storm. Headquartered in Squamish, B.C. Josh, Andy, and Richard now manage a team of ten employees, have expanded their product line to over 100 designs, and offer custom orders and wholesale pricing.
Launching a Brand
After finding out about Export Navigator through the Squamish business community, Josh, Andy, and Richard signed up and were soon connected with an export advisor. Thus far they had relied on organic growth for their business due to limited cash flow, but knew there were more opportunities to expand; they hoped Export Navigator could help them get there.
"Launching your brand into a new market means you need to do so with a bang! Without patent protection on our products we needed to establish ourselves as the best known and the most liked brand in our target markets," says Josh. "This was a huge challenge that we knew we'd need guidance on – that's where the Export Navigator team was able to step in."
Funding for Growth
After working with Export Navigator, Gogglesoc has now completed three successful CanExport grant applications and is working to find even further grants the company might be eligible for.
"Export Navigator assisted us greatly with application planning, new market strategy, and helping guide us through the process. On top of that, the export advisors have been great at making us aware of other provincial and national support programs we might be eligible for," notes Josh.
Gogglesoc has seen considerable revenue growth as a direct result of its export program. The company has been able to expand its product offering, hire new team members, and increase its brand status while improving the value it delivers to its customers.
"Exporting has pushed us to employ better systems and processes, which has encouraged us to build our business sustainably and with a long future in mind," says Josh. "If you're even considering the idea of exporting to new markets, I couldn't recommend a better starting point than the team at Export Navigator."
Export Navigator delivers free export advice to eligible businesses in B.C. Fill out our quick Find An Advisor form to get started, or email us if you have any questions!