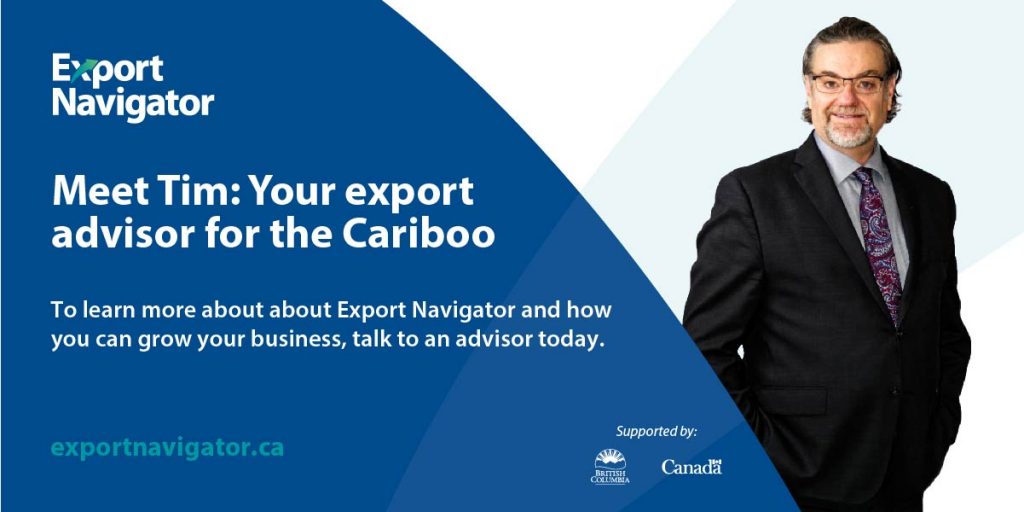 Welcome back to our "Meet the Advisor" blog series! Today, we are excited to introduce you to another one of our talented export advisors, Tim Thomas. He helps businesses in the Cariboo region grow, and brings with him 30 years of management and administration experience – 8 of which was spent in business coaching. He's no stranger to working one-on-one with business owners and helping them reach their goals! 
Export Navigator: Can you please introduce yourself and your professional background?
Tim: I am the export advisor for the Cariboo region and my role is to help entrepreneurs expand their business through exporting. I have a Master of Public Administration and started my career working as Chief Administrative Officer (CAO) of a BC municipality. I've also worked in marketing, and later became a business coach for technology companies with the Innovation Resource Centre (now known as Hubspace). This was back when the Internet was just emerging as a new phenomenon, and I was more than happy to take a crack at utilizing it for business growth. 
During my role as CAO of Port Edward, I oversaw different departments which required a strong knowledge of municipal law, along with managerial and administrative work. One of the departments I was responsible for was economic development. That was where I developed my interest in helping regional economies thrive – something I still work towards in my role with Export Navigator today. Later, I made the switch into marketing because I liked solving the puzzle of how to make something sell. It's a skill that is handy for business advisors to have, as marketing is such an integral part of growing a business. 
Export Navigator: Why did you choose to go into exporting? What areas about it interested you the most?
Tim: The challenge of figuring things out logistically is what's most appealing to me about exporting. Guiding clients through the exporting process allows me to constantly learn new things about the ever-evolving export rules and regulations. There are a lot of moving parts when it comes to exporting, and while intimidating, my job is to help people see that it's not as bad as it seems!
Export Navigator: What is your advising style like?
Tim: In three words, I'd say: ideas-focused, resourceful, and supportive. I am drawn to innovative ideas and working out problems by brainstorming with clients. Resourceful because I know where to seek additional support when the client needs it. Exporting is not a solo endeavour – the stronger your support system, the better. It's easy to become discouraged when you're going through the export process. That's why as an advisor, I prioritize supporting clients through the inevitable emotional ups and downs of exporting.
Export Navigator: What's your favourite part of being an export advisor?
Tim: I've always loved consulting and collaborating with business owners, so that's one of the reasons why I was drawn to the export advisor role. It's always gratifying being part of a business's exporting journey and seeing how far they've come since the beginning. Helping clients problem-solve and overcome the barriers that seemed so daunting at first is extremely rewarding. The key takeaway here is, as long as you do your homework and are ready to work, exporting success will come with time.
Export Navigator: Thanks Tim for your time and giving us some insight into your role! Now, for our last question – what are some of your hobbies or interests outside of work?
Tim: I adore painting, and my main medium is acrylic on canvas. I've converted a spare bedroom into a makeshift art studio for painting because it requires so much space. I also make prints, and I did photography for 20 years.
I used to also be quite involved with Toastmasters. After becoming a business coach, I joined Toastmasters in my free time because I wanted to improve my business coaching skills. I was in it for 15 years until I started teaching at a university. A misconception about Toastmasters is that it's only for improving your public speaking, but it's actually a great way to develop leadership and communication skills so I highly recommend it!
Learn more
Thinking of exporting? Find an advisor in your region today and discover what opportunities are available to you.